ERP Systems Play a vital Role in any organization that is into distribution or wholesale Business, Seamless Automation of Data between various ERP Functional Modules internally and other Enterprise systems is a key challenge. A Warehouse Management System Enhances the Warehouse Management Functionality within ERPwhen integrated. This will enable Enterprise to continuously monitor SKUs as they move in and out of the Warehouse in real time.A Warehouse Management system helps Purchasing, Manufacturing and other departments in decision making about the SKU. A WMS needs an ERP System that it can directly and seamlessly talk to.
Solution with eZintegrations
eZintegrations provides a 2-way integration solution between ON Premise and Cloud ERP System and Logfire WMS/ Oracle Warehouse Management Cloud system to Seamlessly integrates SKUs, Supplier, Orders, Shipment/Receipt Request and Confirmationalong with Inventory Transaction in Near real time. Key Solution Aspects are:
Business User Friendly Interfaceenabling the user to do aobject and attribute level mapping for integrations.
Data transfer Error Detection and Alerts.
Data transfer Visibility with Real time Dashboards.
Real time incremental Auto Refresh between the two systems
Role Based Visibility of Objects and transaction.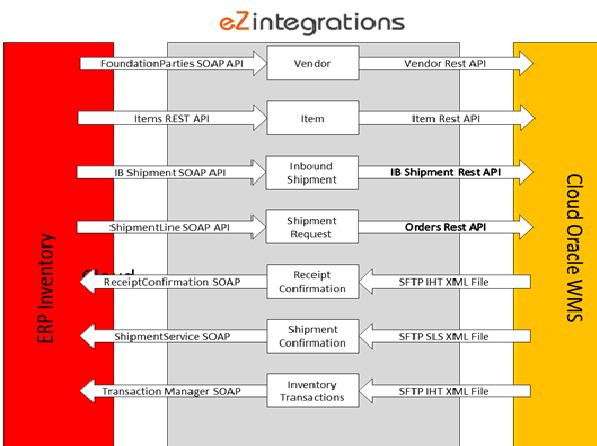 Oracle Fusion to Cloud Logfire WMS/ Oracle Warehouse Management Cloud Integration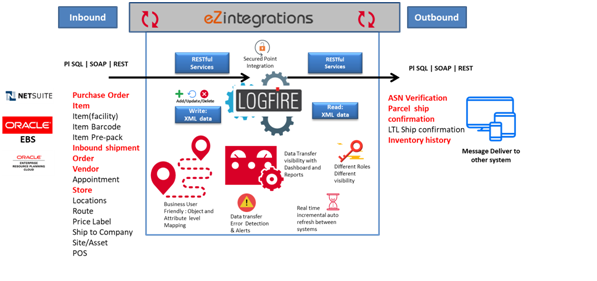 Oracle Fusion to Cloud Logfire WMS/ Oracle Warehouse Management Cloud Integration
Value Prepositions
Unified Systemscross-linked foroverall visibility and control that will enable fact-baseddecision making for Positive business impact.
Data Accuracy is largely improved as once data is updated in one system; it is seamlessly updated in another eliminating the Data Entry errors which would occur otherwise.
This real time information enables employee productivity and once employee has completed the task,they can then be empowered with next step in supply chain to finish the projects on time.
Accurate Tracking of inventory levels which helps preventing Backorders.
Reduced Operational Expenses by Identifying the Perishables or Date-Restricted stock to be moved out of the inventory on priority.