RAPIDFLOW Oracle Fusion Bots
For Oracle Cloud Applications
ACCELERATE - Implementation and Testing
REDUCED CYCLE TIME | IMPROVED DATA ACCURACY | RESOURCE OPTIMIZATION
IMPLEMENTATION
|
UAT
|
UPGRADES
|
WORKSHOP
|
DISCOVERY
|
CUSTOMIZATION
|
TRAINING
RAPIDFLOW Oracle Fusion Bots
For Oracle Cloud Applications
ACCELERATE - Implementation and Testing
REDUCED CYCLE TIME | IMPROVED DATA ACCURACY | RESOURCED OPTIMIZATION
IMPLEMENTATION
|
UAT UPGRADES
|
WORKSHOP
|
DISCOVERY
|
CUSTOMIZATION
|
TRAINING
RAPIDFLOW Oracle Fusion Bots
For Oracle Cloud Applications
ACCELERATE - Implementation and Testing
REDUCED CYCLE TIME | IMPROVED DATA ACCURACY | RESOURCED OPTIMIZATION
IMPLEMENTATION
|
UAT UPGRADES
|
WORKSHOP
|
DISCOVERY
|
CUSTOMIZATION
|
TRAINING
For Oracle Cloud Fusion Applications
Accelerate - Implementation and Testing
Reduced Cycle Time | Improved Data Accuracy | Resourced Optimization
Implementation | UAT Upgrades | Workshops | Discovery | Customization | Training
Accelerated Fusion Deployment
Discover a world where accuracy & precision meet speed & Innovation.
Are outdated manual processes holding your business back? It's time to break free and embrace the power of RPA with Rapidflow Oracle Fusion Bots – Oracle Fusion Cloud.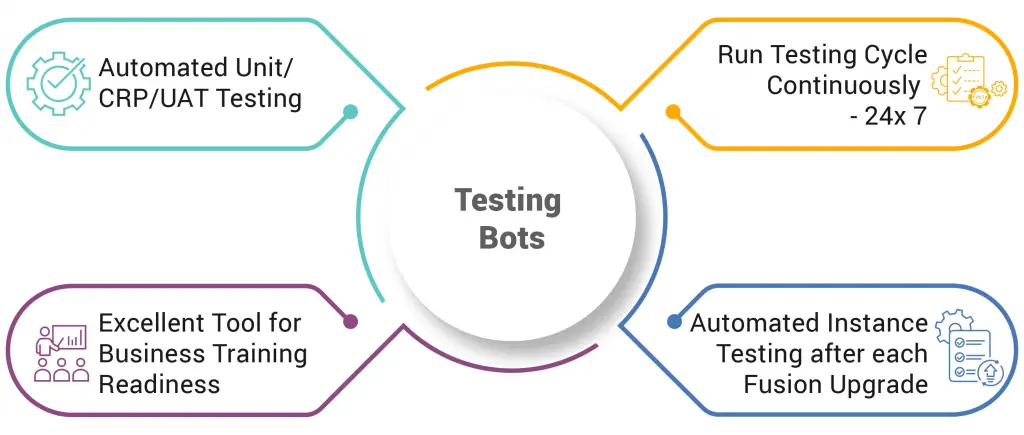 A Next generation Pre-Configured solution for
Oracle

Fusion Cloud
With Rapidflow Oracle Fusion Bots, your business gains the agility and scalability needed to adapt to changing market demands and seize new opportunities. Tackle complex implementation processes head-on and expedite digital transformation with the help of Rapidflow Oracle Fusion Bots, the driving force behind seamless operations.
Efficiently manage financial data, record transactions, perform period-end activities, and generate accurate financial reports.

Simplify accounts payable processes, automate payment processing, and maintain accurate supplier records.

Streamline accounts receivable management, track customer invoices, and automate collection processes.

Optimize cash flow, manage bank accounts, perform bank reconciliations, and ensure accurate cash forecasting.

Efficiently manage fixed assets, track depreciation, and streamline asset maintenance and disposal processes.
Oracle

Supply Chain Management Cloud
Configure and maintain inventory item status, stock levels, issuance and counting across locations within the organization.

Oracle Order Management Cloud

Provides organization to configure Order, product pricing, shipping and transact the orders to shipment.

Configure and automate purchasing transactions like purchase requisition, purchase order, receipts and receiving.

Oracle Product Management Cloud

Create and manage products, catalogs and related processes as part of managing organization products and its relevant details.
Scalability: Easily scaled up or down to handle varying business demand.
24×7 Unattended Operation: Works autonomously without the need for human supervision or intervention.
Flexibility: Flexibility in adapting to changing demands & business needs.
Parallel Processing: RPA can execute multiple tasks simultaneously, improving efficiency and throughput.
Resource Optimization: Optimize resource usage by efficiently allocating computing power and memory, minimizing resource consumption.
High Quality & Error Free: No need of Manual Intervention hence Improved Accuracy & no chances of error.
Rapid Kick-off: RPA deployment leads to faster implementations & upgrades.
Cost savings: RPA reduces operational costs by automating manual tasks, resulting in significant savings.
Fully Automated: RPA executes fully automated implementation/upgrades.
Faster Turnaround Times: RPA executes tasks at a faster pace, leading to quicker completion of processes.
No Manual Intervention: No need for manual intervention, reducing rework efforts-time/errors.
Competitive Advantage: Leveraging automation for increased accuracy.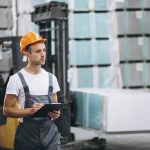 What is Cross Docking? Cross Docking is a phenomenon where in the incoming shipment is received but not stored, and directly sent for shipping.
Read More »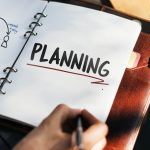 Productivity is never an accident. It is always the result of a commitment to excellence, intelligent planning, and focused effort. – Paul J. Meyer
Read More »
Rapidflow is a global professional services enterprise and RPA solution provider, with over 12 years of experience in RPA products such as UiPath, Blue Prism, and Automation Anywhere. They have specialized skills in various industries and a global team of 50+ specialists across the US, India, and the Middle East. RPA tools can make existing business processes more efficient and transparent, freeing up time and resources for innovation and competitive survival.
Rapidflow offers a range of services including End-to-End Implementation, System Integration, and Application Management Services (AMS) for Oracle Fusion Cloud, Oracle E-Business Suite, NetSuite, and RPA (Robotic Process Automation). The company's unique methodology, Rapid Discovery & Design (RD²) combines with Oracle Unified Method (OUM) to deliver efficient and effective solutions to the  clients.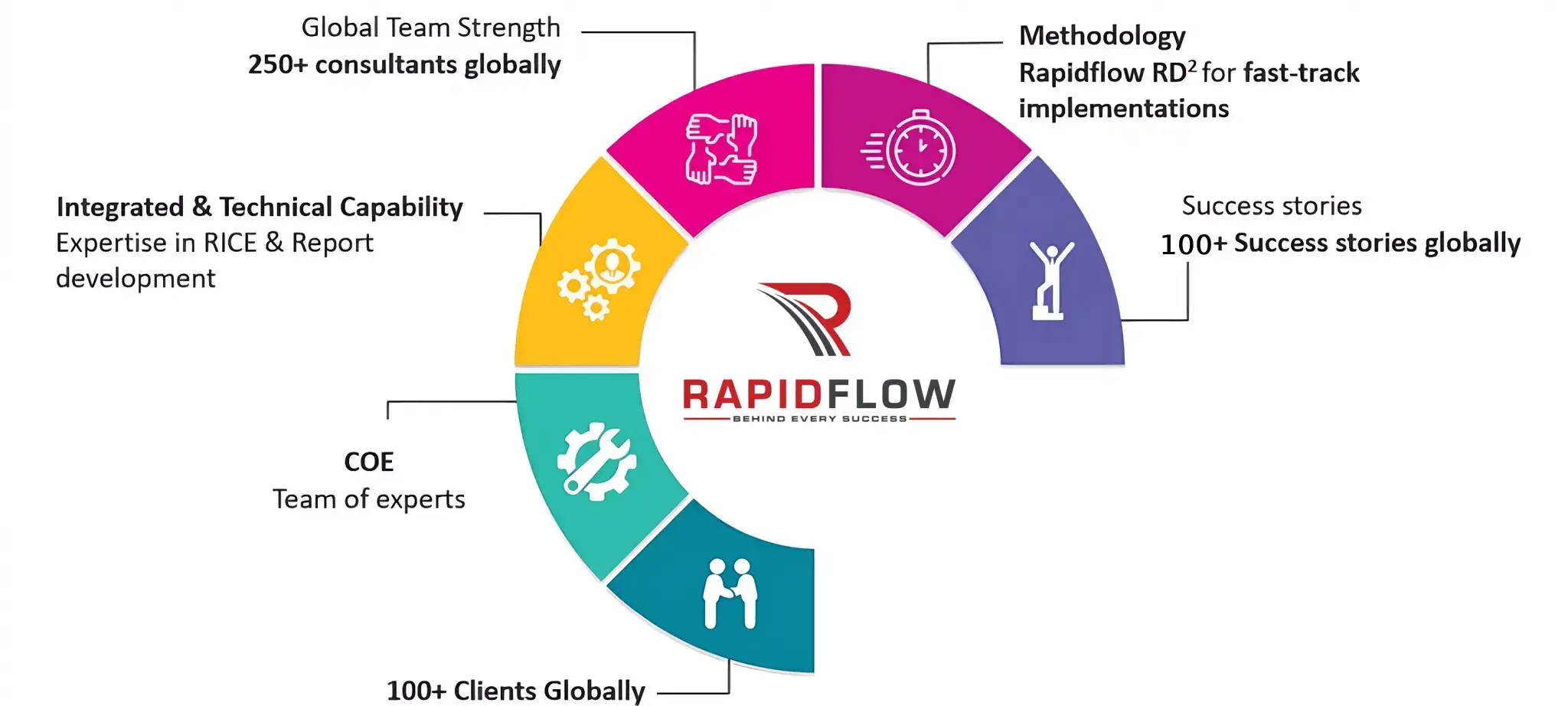 Rapidflow's team of experts with deep domain and technical knowledge, coupled with their experience in delivering large-scale, complex projects, makes it a trusted partner for Oracle-based solutions. We understand client's unique business requirements and provide customized solutions that align with the client's business objectives, sets it apart in the industry. Rapidflow's focus on delivering quality solutions, on-time and within budget, ensures a rapid return on investment for their clients.
Rapidflow is a leading consulting company in the area of Oracle Supply Chain, Product Lifecycle Management, Master Data Management and Business Intelligence. Our focus is on delivering quality solutions through its Rapidflow Implementation Methodology, with real-world experience and unmatched applications expertise, Rapidflow ensures not only implementation success but also guarantees a rapid return on investment for its clients. The company's team-driven approach helps its clients achieve their corporate goals and maximize operational and financial performance. Rapidflow provides its customers with accelerated business flows and Oracle-based productivity solutions that help organizations improve their efficiency, visibility, and security of their business processes, and make data-driven decisions.
Get expert advice on
streamlining

your

business

.
Schedule your free

consultation now!
"The Rapidflow team has been instrumental to the successful deployment and improvement of our Oracle VCP modules (ASCP, Inventory Optimization and Demantra) over the last few years across multiple projects. Their strong Oracle VCP expertise combined with an in depth understanding of our business processes ensured timely and accurate IT deployments while also quickly delivering ROI." (Stuart Williams)